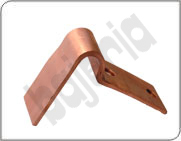 Bimetallic Sheets
Product Description
We are considered as one of the leading enterprises, engaged in manufacturing and supplying Bimetallic Sheets. These sheets are composed of two separate metals that are joined together. They are widely used for converting a temperature change into a mechanical displacement. For ensuring excellent quality products, we perform several quality tests in accordance with industry laid norms and standards. Moreover, these sheets are joined together throughout their length by brazing, riveting and welding. Further, these Bimetallic Sheets are utilized for various in thermostats, clocks, electrical devices, heat engine and thermometers. They are also packed really well for avoiding any damages to the products during shipment.

Our Copper Laminated Flexible Jumpers are made from Electrolytic Copper foils of 0.04 mm to 1.0 mm thick to suit flexibility as percustomers application and requirements. We offer Flexible jumpers with contact areas HOT PRESS FUSION WELDED up to 400 mm wide.
This process of hot press fusion welding is a very special process wherein the copper foils are welded together through Direct Current applied under pressure. By this process the foils get defused and become a homogeneous solid bus bar. This process has no influence on the conductivity between the welded contact areas and the flexible part of the connectors. It is also possible to drill, saw, or Mill the contact areas without any difficulty.
There is no revitting, Tin soldering or filler used in our welding process.